I don't know about you, but I am starting to get a bit tired of those endless discussions about "The Future of Work".

Much of that debate centers around technology and WHERE we perform our work.

But the future of work is actually about people.

When we talk about it, we talk about humans — how we work, with whom we work, and yes - also where we work.

The Future Of Work is human and must be humane.

It is more about people than location!

Now is the time to take a fresh look at the employer/employee relationship and the fitting tool to strengthen that relationship.
Hybrid work gets all the airtime
And none of those debates include the frontline workers.
It cannot be overlooked how in these challenging times when organizations had to adapt to the new now, frontline workers played a strategic role by using their skill sets to deliver efficient customer service. Yes, they even had to absorb their customers' anxiety.


Let's talk about our frontline sheroes and heroes.
They're on the ground producing and delivering goods, servicing machines, selling to customers, ringing people up, cleaning rooms, caring for guests and patients.
They're working hands-on with the things that matter most for the survival of your business: your products and your customers.
Most of them don't perform their jobs predominately sitting at a desk (= 'deskless workforce').
In fact, they're having the most interaction with your customers. They deliver that customer experience your organization wants to be known for.
Why are we not talking more about how to connect, inform and motivate more of our deskless workers who often feel disconnected at the frontlines and need great employee experiences just like those who sit at a desk?
They are certainly NOT the minority!
Frontliners - the majority of the global workforce
There are an astonishing 2.2 to 2.7 billion deskless or frontline workers (60 to 80% of the global workforce of 3.6 to 3.8 billion).
If that number surprises you, think about all the industries this includes retail & grocery, healthcare, hospitality & food services, construction, manufacturing, logistics, utilities and your friendly bus driver.
It is far too easy to forget about the remote workers because we're not seeing them every day in the office.

𝗧𝗵𝗲𝗶𝗿 "𝗳𝘂𝘁𝘂𝗿𝗲 𝗼𝗳 𝘄𝗼𝗿𝗸" 𝗱𝗶𝘀𝗰𝘂𝘀𝘀𝗶𝗼𝗻 𝘀𝗵𝗼𝘂𝗹𝗱 𝗴𝗼 𝘄𝗮𝘆 𝗯𝗲𝘆𝗼𝗻𝗱 𝘁𝗵𝗶𝘀 𝘂𝗯𝗶𝗾𝘂𝗶𝘁𝗼𝘂𝘀 𝗱𝗲𝗯𝗮𝘁𝗲 𝗼𝗳 𝘁𝗵𝗲 𝗵𝘆𝗯𝗿𝗶𝗱 𝘄𝗼𝗿𝗸 𝗺𝗼𝗱𝗲𝗹.
For them, hybrid work remains a far-fetched dream. They don't have the privilege of choosing the place where they work.
But we have the opportunity to make a difference in how they work.

Sadly, employee turnover in deskless professions is quite high while job satisfaction is quite low.
There are a number of reasons for this including work/life harmony challenges, wage dissatisfaction and a low level of enjoyment of the job itself.

But there is more to it … let's look at that here.
Our High-Social-Value workers have different needs
Yes, we've always known that frontline workers have hard jobs.
It's at the front lines where the rubber meets the road and where the magic happens within your organization.
But do we know that the good people who work on the front lines still depend on outdated analog processes like paper and bulletin boards for the information they need to do their jobs?
This outdated employee experience makes hard jobs even harder.
Sadly, our deskless workers have been overlooked and pushed to the bottom of the communication pile for way too long. They've wrongly been excluded in favor of employees in central HQs or other desk-based locations.

Our customer experience sheroes & heroes deserve better!
It's time to change the narrative & provide deskless workers with the same benefits, tools and workplace flexibility that is seen in desk-bound work environments.
After all, many of them are really "High Social Value Workers" as we have finally realized during the pandemic.
Failing to address their different needs has been a significant oversight in terms of the organization's overall performance.

And their needs are very different …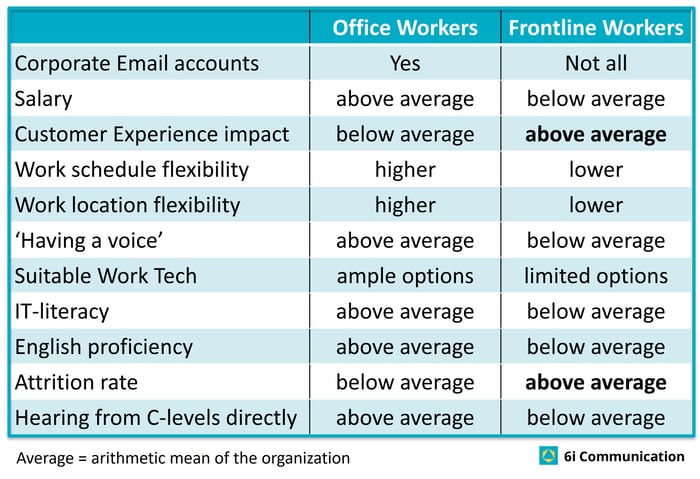 Frontline workers have needs and priorities that aren't always easily understood by those on the outside.
Frontliners value things office workers might be suffering from in abundance. Some of them are so spoilt for choice (email, Intranet, MS-teams, Sharepoint, Slack, …) that they don't know which channel to use for what kind of communication.

Frontliners often don't even have a corporate email address!

They don't have such a high IT literacy either. We have to think about the usability of the product differently. We have to make the software super, super simple and easy to use.



Sidenote - QUESTIONS FOR YOU
In the context of DEI, how might an organization claim to score high in 'Inclusion' unless all those demographic differences are being proactively addressed?
Is your workplace covering all these different dimensions of diversity?
Is your organization "diverse" AND promoting a sense of inclusion & belonging so that your frontliners stay with you?

What does it take to be truly inclusive at work?
Bad software can sometimes drive away your frontline workers faster than a neon, polyester uniform in Singapore's outdoors.
An old, clunky legacy system that's difficult to use is like nails on a chalkboard for your team. It's a slow, agonizing irritation that eventually crescendos into an "I can't take it anymore" moment.

Could this 'technology neglect' lead to feeling disconnected and like a second-class employee? Could it be one of the reasons why only 13% of the worldwide workforce feels engaged at work (compared to 35% of their desk-based counterparts)?
"If all you are offering your employees is a job, you can't be surprised when they leave to do that same job elsewhere for more money."
Certainly, the technology you provide to your frontline teams sends a message to them about where they stand in the grand scheme of the company's priorities.
They simply deserve the best tools to perform their work at the highest level.

Careful though, as digital tools for frontline workers have to meet needs that either aren't present or aren't as pressing for desk workers.
Not all of the solutions a frontline worker interacts with every day are easily accessible on the front line and when you put them all together the question of accessibility becomes even more complex.
Logging in, printing, gathering around bulletin boards, keeping data up to date - all of these things become more challenging the more systems you have in place to enable, empower, inspire and guide your front line.


And it's here where a lot of companies go wrong — they give desk workers & frontline workers the same tools & basically say, "Make it work."
Don't fall into this trap.
Giving your frontline team a communication platform built for desktop workers is like giving a fisherman a baseball bat.
It doesn't do the job, and quite frankly, it ends up being more of a burden to carry around than a useful tool that makes their life easier.
Your frontline workers have unique communication needs and thus require a communication platform that is built for them.
That platform needs to:

✔ Be Mobile-First (who leaves home without their smartphone?)
✔ Be Intuitive (no formal training required)
✔ Be Accessible (languages!)
✔ Be Interconnected (with existing backend tools)
✔ Enable Compliance (GDPR & PD-PA)
It's a sobering reality that for most majority frontline organizations less than 20% of staff are reachable within 5 minutes.
In our digital world, why is that even still an issue?
With corporate email addresses reserved for corporate teams, frontline teams are reachable only by direct mail, posters, or via dozens of phone calls down the chain of command.
This makes changes cumbersome and agile operations difficult to achieve.
Whether you're rolling out a new standard operating procedure, need to react fast to a product recall, or want to get last-minute order quantities to your teams, not having fast access to 80% of your workforce is a huge restriction.
Just think about your crisis communication.
❓ How many percent of your people can you reach in an instant currently❓
Message in a bottle
Let's imagine this scenario: You are leading a team of people that work on the go, geographically distributed, across several shifts and functions. Your people speak many languages. You have to get your messages across to them to ensure strategic alignment and execution.
Not every single message can be sent out as mass communications to different people who may or may not have a role in execution.
Now you have a message that only needs to be delivered to a certain group of people.
Are you getting through?
When you deliver your message is it closer to a message in a bottle than a direct conversation?
Are you certain that your messages are not getting "lost at sea"?
Are you certain that they reach the recipients and that they read and understand them?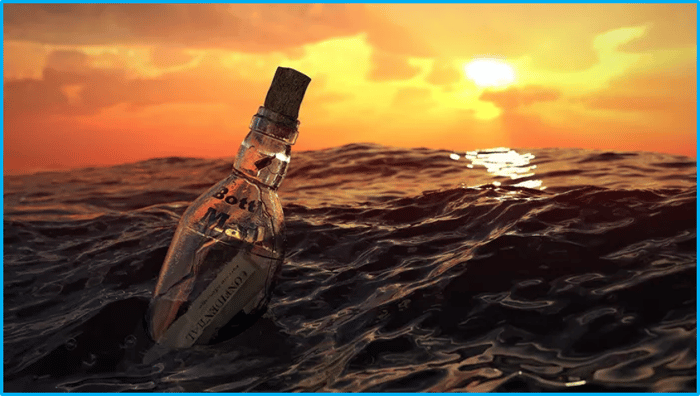 Communication – or rather the lack of it – is a major culprit for sub-optimal productivity and disengagement.
Sidenote:

Using one unified app employees and managers can communicate across languages and geographies at ease.

Utilising the latest approaches in machine translation, Beekeeper can translate seamlessly across languages – a feat that would have been impossible just a few years ago.
Now what if there was a way to monitor engagement, give your valuable frontline employees a voice, share feedback, take fast action with management and run transparent communication campaigns with your entire frontline workforce — on one platform, without sending a single email?
A digital workspace can virtually remove this wasted time by amplifying communication efforts.
Beekeeper lets you know if your people are "buying" the messages you're "selling" — and it empowers communications that accelerate engagement and close those nasty communication gaps triggering this kind of reaction.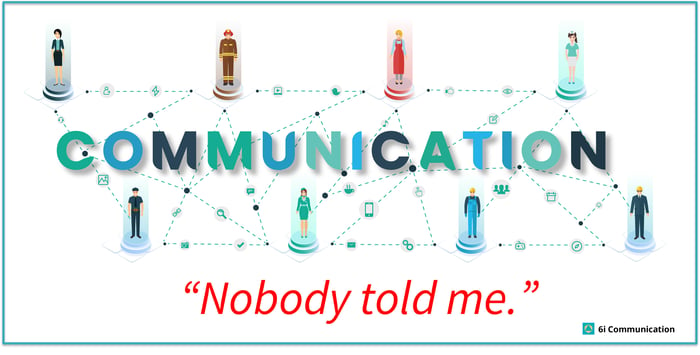 How many times have we heard that from a colleague or team member, after you knew darned well you did everything to get the information in their hands?
It's frustrating, right?
The more dispersed the workforce the likelier this is to happen.
It always puzzles me when organizations don't insist on having one inclusive internal communication platform that is accessible to literally everybody on the team.
How else do leaders get their message into all nooks and crannies of the organization?
❌ Email is not it - not all frontliners are given a corporate email account.
❌ The printed quarterly newsletter is not it - how would leadership know whether people read it or rather use it to wrap up their fish in it?
❌ The occasional Town Hall Meeting is not it - not everyone is in the same location & not everyone can afford to stop work in the middle of the day to listen to their leaders.
❌ The good old notice board is definitely not it - who bothers to stand in front of a notice board to diligently read all the announcements when the mobile phone in their hands is shouting for their attention?
We need to go mobile. Your people have gone mobile a long time ago already.
With mobile technology, you can put information directly in the hands of your people ... and you can hear back from them too.
Remember: Only two-way communication is true communication. One-way communication is just dishing out information.
The two-way communication pyramid
❓ HAVE A THINK: Which level is the most powerful productivity and engagement driver for your business❓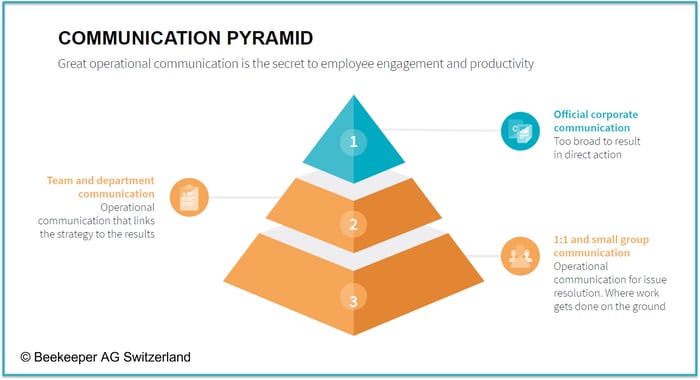 The top level of the pyramid, organizational communication, is highly effective for delivering company-wide news and updates but does not often result in direct action on the ground.
That's where operational communication comes in.
Your core business operations do happen via operational communication in the base layer and the middle layer of the communication pyramid.
This is where the work gets done — and it's often the area where small changes have the biggest impact.
Great operational communication is the core driver of efficiency. It links strategic alignment to real-world problem-solving to deliver results.
Great operational communication also impacts the way employees perceive the organization, which in turn increases satisfaction and workforce retention.
Sidenote

Organizations with a frontline-majority workforce need to consider mobile-first corporate communications tools to reach employees that are constantly on the go.
They must adopt the right tools for their workforce, size and operational needs.
Like a corporate communication tool that's truly inclusive, empowers frontline workers and boosts productivity.
Find out how to "𝘾𝙝𝙤𝙤𝙨𝙚 𝙏𝙝𝙚 𝘽𝙚𝙨𝙩 𝙏𝙚𝙖𝙢 𝘾𝙤𝙧𝙥𝙤𝙧𝙖𝙩𝙚 𝘾𝙤𝙢𝙢𝙨 𝙏𝙤𝙤𝙡 𝙛𝙤𝙧 𝙮𝙤𝙪𝙧 𝙁𝙧𝙤𝙣𝙩𝙡𝙞𝙣𝙚 𝙒𝙤𝙧𝙠𝙛𝙤𝙧𝙘𝙚".

Looking for an edge?
You and your company might have had an edge in the past.
But nowadays that edge is arbitra-edged away - excuse that PUN.
Any competitor can copy your products, your processes and your solutions.
Copying your corporate culture is much tougher – if not impossible.
Companies that have already "human-upped" their culture are leading the charge.
Particularly as unemployment falls to structural levels, and freelance options become more and more feasible and widespread, the power balance will continue to shift toward individuals. Employees have their choice of employer, and employers must qualify to earn their time and effort, not the other way around.
The mandate for leaders is to show people why working for you matters to them, in terms of the financial, intellectual, social, and emotional rewards of the work.
We spend too much time trying to be "good" when good is often merely average.
To be great we must be different.
❓How is your organization different ❓
In a crowded, competitive, commoditized, distracted world, it's good to be better, but it's better to be different.
Different is better than better.
Different is easier than better.
It is easy to be different. But it is very tough to be better than your competitors.

The question is, how are YOU different?

Because same is lame.

Without deskless workers, our economy would come to a standstill. We would have no food, healthcare, transportation, childcare, or products to buy. Let's together build a new deskless reality that is not a second-class version of deskbound work but, instead, second to none. We owe it to the people who power our lives.
"Winning the war for talent depends on the deskless worker experience YOU offer."