Not-so-fun fact: Employees who work remotely have higher attrition risk than those who work from the office.

In a time when most of us have struggled with feelings of isolation and disconnection, the engagement of meaningful and rewarding work is as vital as ever.
Now is where being close to the people, communicating transparently and regularly is super important.
When there's a global pandemic raging on, company higher-ups have a tremendous opportunity and responsibility to care for their people.

All of them.

Today highlights the stark divides between those who can work from home and those who can't.
The further apart we become physically, the more we need to find ways to bind us together emotionally.

✅ Connection to team-mates makes work more meaningful & enjoyable.

⛔ The lack of it makes work feel like a chore and creates the siloes that eliminate creativity.

⛔ But leaders deciding what their employees need based on their own narrative is no longer the model.

✅ Today, it's a conversation - one based on professional empathy and the balancing of business goals with the needs of employees.

✅ Ask people if they feel they are included, feel they have power over their assignments, feel they are in the know & feel that their ideas are valued.


Since we frequently derive our sense of purpose, mastery and success from those around us, our motivation suffers. Remote work seems to substitute one employee engagement driver, autonomy, for another, community.


The solution

✅ Keep connected at all costs.

It will be critical for companies to recreate this connectivity regardless of where employees are located.

Leaders who can maintain cohesive teams and find consistent ways to socially connect during these challenging times will emerge from the pandemic with more resilient organizations, ready to hit the ground running.

The goal should be to connect people, not to pull them apart.
Use technology and common sense to create close working relationships up, down and across your organization.
Our app provides the necessary internal cohesion in these uncertain times.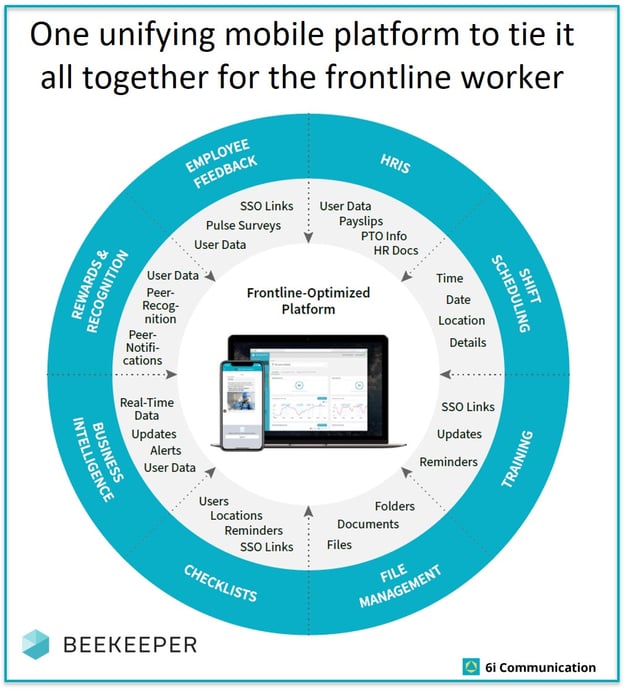 Beekeeper's platform allows for example videos from the leadership team to be distributed and watched by all members of the company almost in real time, so response to any issue that needs addressed can be almost instantaneous. Feedback can be gathered from all nooks and crannies.
With Beekeeper you don't need to guess about what employees need to feel more engaged – you can just ask them.
But tech solutions are not enough.
You have to ask yourself how these digital tools serve your people as individuals and really put them at the heart of any technology you use.

The human element, compassion and empathy must not be forgotten!
Because togetherness makes us better versions of ourselves.