More and more businesses are investing considerable time and resources into developing their employees' soft skills and creating a more welcoming, engaging atmosphere for their employees.
Recently the Business Roundtable, a group of chief executive officers from major U.S. corporations, issued a statement that redefines the very "purpose of a corporation."
America's new corporate mission statement essentially reads like every New Year's resolution anyone, anywhere has ever written. The largest companies in the world essentially pinky swear that from now on they won't be purely driven by profit, and that they promise to invest more in the community and their employees.
Here's a snippet from their revised "Statement on the Purpose of a Corporation."
"We commit to:

Investing in our employees. This starts with compensating them fairly and providing important benefits. It also includes supporting them through training and education that help develop new skills for a rapidly changing world. We foster diversity and inclusion, dignity and respect."
Clearly corporate America is pushing its softer side and proving to the public that it's not all about making a profit — people matter too.
This shift in the corporate mindset and priorities has even trickled down to the F&B space.
Here are just a few reasons why some of the world's biggest F&B brands are future-proofing their business by improving their employee experience.
1) Ensure Long-Term Loyalty
The turnover rate in the F&B industry is staggering. As much as 46% of the staff in Singapore want to switch jobs. The turnover rate is even higher in the F&B and can go as high as 100% or more in certain kinds of F&B sectors, costing the Singaporean F&B industry millions in recruiting and training.
Those figures are even more devastating when considering the global average turnover rate being at 10.9 per cent.
In the past, low pay and little to no employee benefits led to a palpable lack of employee loyalty in the food industry.
If F&B players are serious about reversing this trend, they need to also get serious about investing in their staff in the form of benefits, recognition, opportunities for growth, and building a company culture to keep their team members happy.
2) Improve the Fast Food Customer Experience
Consumers have been conditioned to accept customer service at Fast Food outlets that's just ok. Getting our hands on something deep fried in less than five minutes was worth it. But now, the competition is just so steep, that they can no longer afford to deliver a ho-hum guest experience.
In addition to public rivalries and smack talking (ahem McDonald's and Burger King), Fast Food chains are hoping to out-do their competitors with good old-fashioned customer service.
That's why Chick-fil-A has gotten so much positive press just for training their employees to say "my pleasure" instead of "you're welcome."
It also explains why McDonald's has been experimenting with offering table service at select locations.
Finally, it's also why more and more Fast Food chains are adopting a team app and building a mobile-first, digital workplace for the frontline employees. More on that later.
In the Fast Food world, good service has officially become just as important as quick service.
3) Promote Core Company Values
In order to build a thriving company culture, employees need to feel connected to the company's core values. Here's how one popular pizza chain used an employee app to do just this.
How MOD Pizza Uses an Employee App to Promote Company Culture

As part of their commitment to improving the employee experience, MOD Pizza uses a team app to encourage employee engagement and promote their four core values — grit, growth, generosity, and gratitude.
Here's what MOD Pizza's Director of Operations had to say about how their digital workplace has improved the employee experience for their frontline teams.
"Beekeeper helps the squad feel connected on busy days across a wide geography. Sharing pictures and wins keeps them coming back for more. I use it to share progress towards goals, recognition stories, and quick changes that deserve immediate attention." - Aaron Johnson, Regional Director of Operations, MOD Pizza
4) Streamline Operations
The impetus to improve company culture isn't all just about creating warm, fuzzy PR moments. There's actually very practical business benefits to having a happier, more connected team — especially in the food service industry.
Fostering a more positive, communicative atmosphere can dramatically improve overall retail operations and increase profits.
How Poor Communication Can Devastate Your Bottom Line in the Restaurant Industry
Miscommunication in the food service business can lead to costly mistakes. Here are just a few examples of how poor communication can negatively affect restaurant operations:
Food waste

- Orders are miscommunicated and food is sent back to be redone
Absenteeism

- Confusion over

shift schedules

is often a problem for frontline employees results in workers missing their shifts and leaving the restaurant short-staffed
Failing to meet sales goals

- Employees are often unaware of seasonal specials or promotions, which negatively impacts their ability to upsell product
How Domino's Pizza Improved Cross-Selling Through Investing in the Employee Experience with a Team App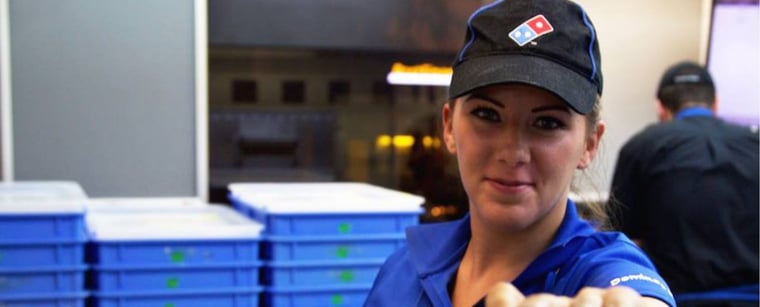 Domino's Pizza in Switzerland needed to overcome communication challenges such as:
Meeting sales numbers
Ensuring employees received HR materials
Time-consuming retail operations processes
So, they turned to Beekeeper to help them improve their employee experience, and make life easier for their HR leaders at the same time.
Through successfully leveraging Beekeeper's suite of operational communication features, Domino's was able to:
Phase out the use of

WhatsApp for communication which improved security of their internal communications
Increase revenue through cross-organizational messaging
Completely digitize their payroll process, saving their HR teams hours of time each week while also providing employees with direct, mobile access to their payslips
Improve the customer relations process
Hit a new national sales record
"Connecting our corporate desk employees directly to team members across all locations increased motivation tremendously. Whereas before managers could not congratulate employees directly on strong sales numbers, our leadership teams can now validate crew members with a photo and a positive message." - Claudia Scherrer Domingos, Head of HR, Domino's Pizza
If Restaurant Chains want to truly stay competitive, they need employees who are genuinely happy to help people. And that means going the extra mile to create a comfortable work environment for your team and staying attuned with your team's needs to ensure the long-term health and success of your business.

---