Communication professionals are faced with the daunting task of successfully aligning workforces with the strategic mission and objectives of their organization. Suffice to say while managing costs. These priorities are often competing, yet they don't have to be.
Data conveys that companies that communicate well internally perform better. While senior executives recognize the role that internal employee communications plays in aligning everyone in an organization, there remains a lack of clarity as to how to achieve this.
Digital Corporate Communication Tools: Here to Stay
Singapore's low unemployment rate gets business leaders talking about people management as a core priority. Attrition rates are high so that businesses sometimes can not keep up with talent management and re-hiring candidates. Better retention numbers can not be achieved without top flight communication professionals empowered with the right internal communication tools.
Effective employee engagement and team communication are not digital workplace trends, but key indicators of how successful your company culture, internal communication, and business are. Imperative to this success is adopting the right tools to cultivate and sustain a thriving, happy, and productive workforce.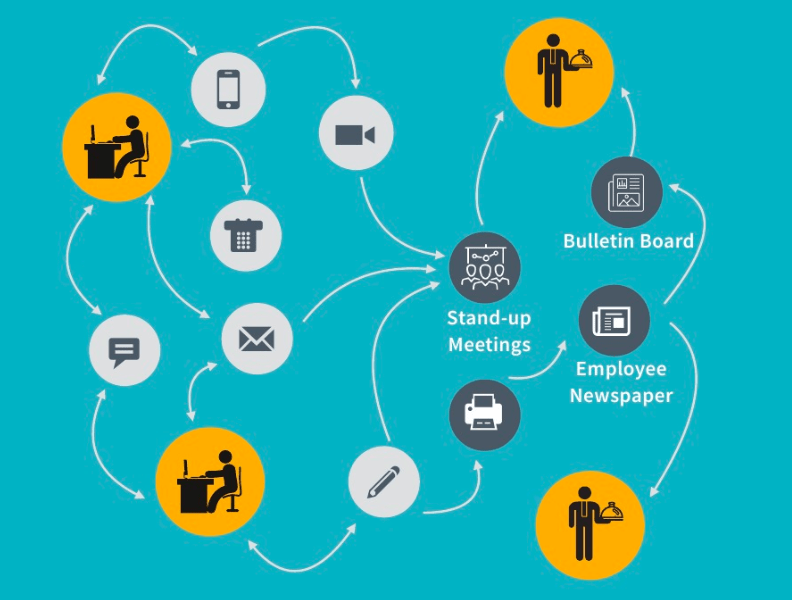 Leveraging an Employee App To Drive Employee Engagement
One of the best advantages of implementing an employee app is that digital technology meets the employee where they are. Many of them are not working behind a desk but are on the move serving customers. Many of them might not even have a corporate email account.
This is one of the most compelling proof points there is to demonstrating the value of adopting a digital workplace. There are many types of communication tools, such as an employee app, but in order to best make the case for your organization to adopt them, you need to first identify the direct benefits and explain the impact they will have on your business.
Some compelling use cases to consider for your proposal that will resonate with executive leaders are:
Remind your workforce of company messaging. Whether it's announcing company re-branding or the launch of a new initiative, posting in communication streams on an employee app allow information to be quickly and easily distributed. Tagging relevant team members ensures they are notified of the content, and can respond.
Real-time, mobile communication with every single employee. Across departments and teams, the level of transparent, mobile, and immediate communication made possible via an employee app is an unparalleled step towards building trust, good-will, and effective internal communication with your entire workforce. Ensure your employees receive mission-critical information when they need it, and can respond and engage if necessary without any communication "red-tape" such as not having a colleague's personal contact information, sending an email, or posting a handwritten note that may otherwise go unread.
Opportunities for employee engagement. Between polls, contests, employee surveys, and employee recognition initiatives, an employee app is a highly-visible method of actively celebrating workforce contributions and dedication.
A Digital Workplace as an Alternative LMS for Internal Communication
Internal Communications is the intermediary between an organization's leadership and the frontline workforce. One of the main components of any Communication professionals role is to improve delivery of information. Equally important as making sure corporate internal communications reach employees is to act as an advocate for those employees and ensure their feedback reaches leadership. This connection is a major value proposition to emphasize.
Happy employees matter: the employee is a direct line to your customer. If an employee is disengaged, and the company product or service is not tended to, this will inevitably affect the customer and therefore the bottom line. From onboarding materials and continued education to operational trainings and benefits management, Learning Management Systems are often a key component of internal communication delivery mechanisms. An employee app is a a viable supplement and in some cases an alternative to a LMS. Here are a few reasons why:
Digital internal communications are more accessible.

Digital communications are superior to traditional classroom learning because employees can reference and access information at their convenience and on their own terms.
An employee app is mobile.

Many LMS platforms are desktop-only and are restricted to employees that are connected to the company server. It is difficult to get 100% participation and in a timely manner when people are working geographically disbursed.
Smart digital tools make communication professionals and employee lives easier.

Analytics provide actionable feedback data in real-time. Intuitive distribution lists can be created to reach targeted audiences. Responses can be archived for future reference and accountability.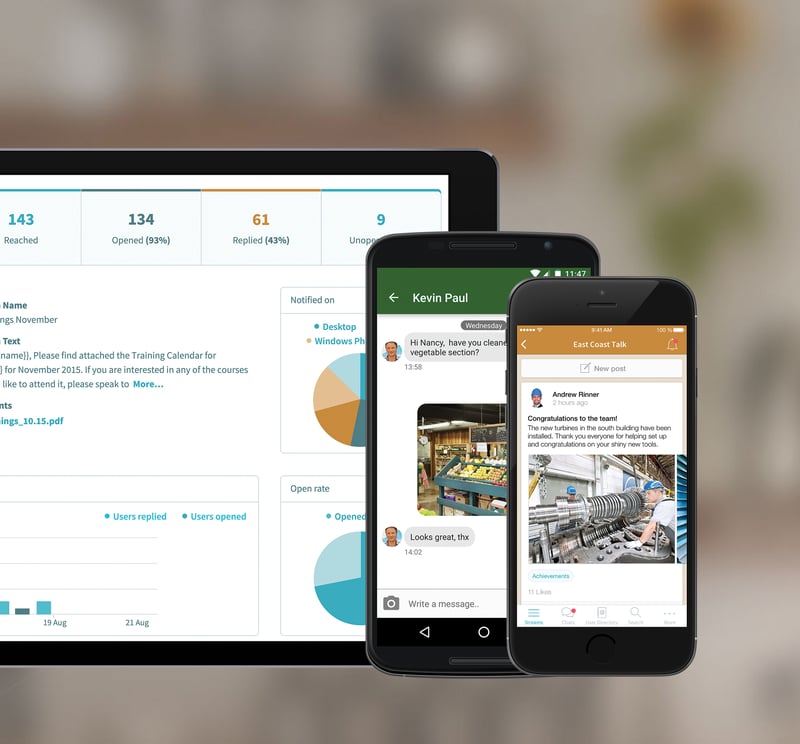 A Digital Workplace as an Alternative for Printed Communication
Without an operational communication platform you deploy company announcements indirectly via supervisors, printed memos, and bulletin boards. When employees have inevitable follow-up questions about announcements, it is difficult for Internal Communications to pick up these inquiries first-hand since the requests of frontline employees needed to be passed through management.
Without the ability to confirm communications have been read, it is also difficult to verify that all employees had received proper information. Beekeeper's confirmation campaigns feature allows you to quickly dispatch crucial information, then instantly verify in real time which employees have read and understood the memo.
Without the ability to share news, success stories and best practices independent of the quarterly or monthly newsletter editorial calendar the newsletters often do no longer deserve the title "news". With an digital workplace App leaders can share the news as and when it happens creating a more up-to-date channel that people are already used to in their personal lives. This direct line of sight and communication with management creates connectedness like never before. Employees who still only receive a printed newsletter every three months can merely dream about such conditions.
Imagine how much money your organization could save by replacing bulletin boards and printed newsletters. Paper, layout, printing, distribution costs, keeping bulletin boards current, and so on. All of these costs are incurred without any idea whether people are actually reading what you want to communicate to them.
Many offline employees on your teams work directly with customers and have a significant influence on public perceptions of their brand. Given that the vast majority of all companies compete primarily on the basis of customer experience, it is therefore a decisive factor in creating brand loyalty, with committed and fully informed employees being a key driver.
Best-of-breed internal communication is a continuous and bi-directional flow of value and trust with in-built virtuous feedback loops including every single one on the team.
The ROI is strong.