As more digital tools enter the workplace, organizations should pay particular attention to the actual, not promised, productivity within their workforce. According to PwC's Global Workforce Hopes and Fears Survey 2022, one of the biggest challenges they identified is the need to improve what is often called the "employee experience."
As the economy recovers and work takes on a variety of shapes Employee Experience (EX) will matter more than ever.

Employee experience is just the input.

Engaged employees is the desired outcome.
Because here's the catch:
Employers CAN'T make employees be engaged.
Employees CHOOSE to become engaged or they don't.
In operations, we would never implement solutions or change processes without measuring the outcome.
But that's exactly what many do with Employee Experience – they don't measure the outcome of their well-intended workplace experience inputs.
Let's not forget: Employee engagement is very subjective and individual.
PwC's Survey indicates for Singapore that only 11% of employees (compared to 27% globally) strongly agree that they can bring their true self to work. Only 12% (compared to 25% globally) strongly agree that their jobs are fulfilling.
These sobering findings beg the question 'where is our continuous feedback loop?'
How does our Internal Communication Platform align with business goals and positively impact our ROI.
Naturally, this leaves companies wondering what tool to implement and why, and how to accurately measure ROI from implementation.

Data is a good start, but without a way to adequately assess and communicate what it means for your business, the success of your digital workplace isn't guaranteed.
Having a communication strategy in place is a good first step toward benchmarking your digital workplace. After all, companies can't expect to evolve and innovate without effective alignment around and deployment of workforce communication and management technology.
Depending on your business and objectives, here are some of the most impactful KPIs to establish and measure as you plan for, implement, and evaluate your communication strategy with mobile technology for your digital workplace platform.
1. Increased employee engagement with mobile technology
Your workforce needs to know how new technology will directly affect them and their work. To better define this, and ensure the tools will be better received, start by surveying your employees about specific aspects of their job that could be improved.
This aspect of your communication strategy goes a long way towards building trust in the new digital workplace tool and gives your employees a personal stake in the rollout and success.
Establish the goals and outcomes for operations and workforce management with an intentional involvement of your management teams and employees. For example, for predominantly mobile workers and non-desk teams, a SaaS-based digital workplace tool might be the best route to maximize organizational agility across locations, shifts, and departments, regardless of industry.
Better and more varied forms of digital communication are making mobile and remote working one of the most significant digital workplace trends.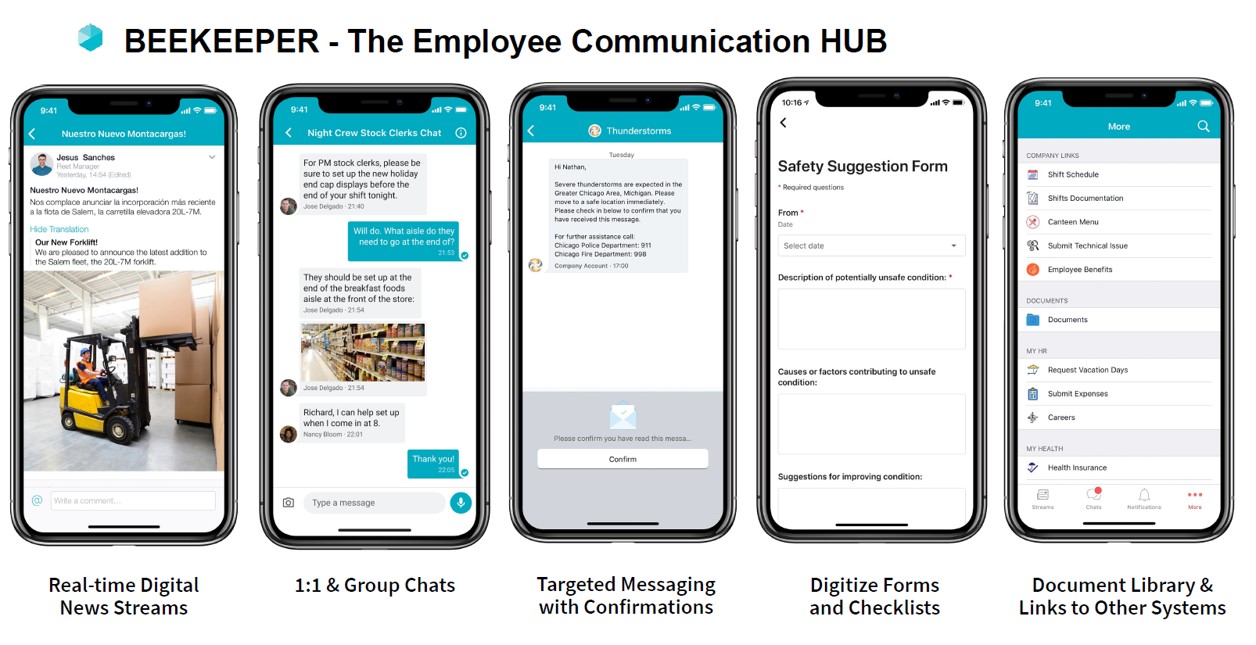 2. Improved workforce management for reduced turnover and higher employee retention rates in your digital workplace.
The frontline workforce faces considerable challenges when it comes to retention. However, 83% of employees who are offered learning opportunities through work are more likely to stay with their organization.
Offering opportunities for employees to expand their professional development horizons is thus a retention magnet and can be facilitated via your digital workplace tool.
Measure employee engagement continuously and pay attention to retention for non-desk workers. Look at what would be most appealing and compelling for your workforce in terms of upskilling, such as time-off and funding for advanced certifications specific to their role.
Use your digital workplace technology to measure what online video courses receive the most views, for example, and ask for feedback regularly to gauge the progress and engagement with these resources.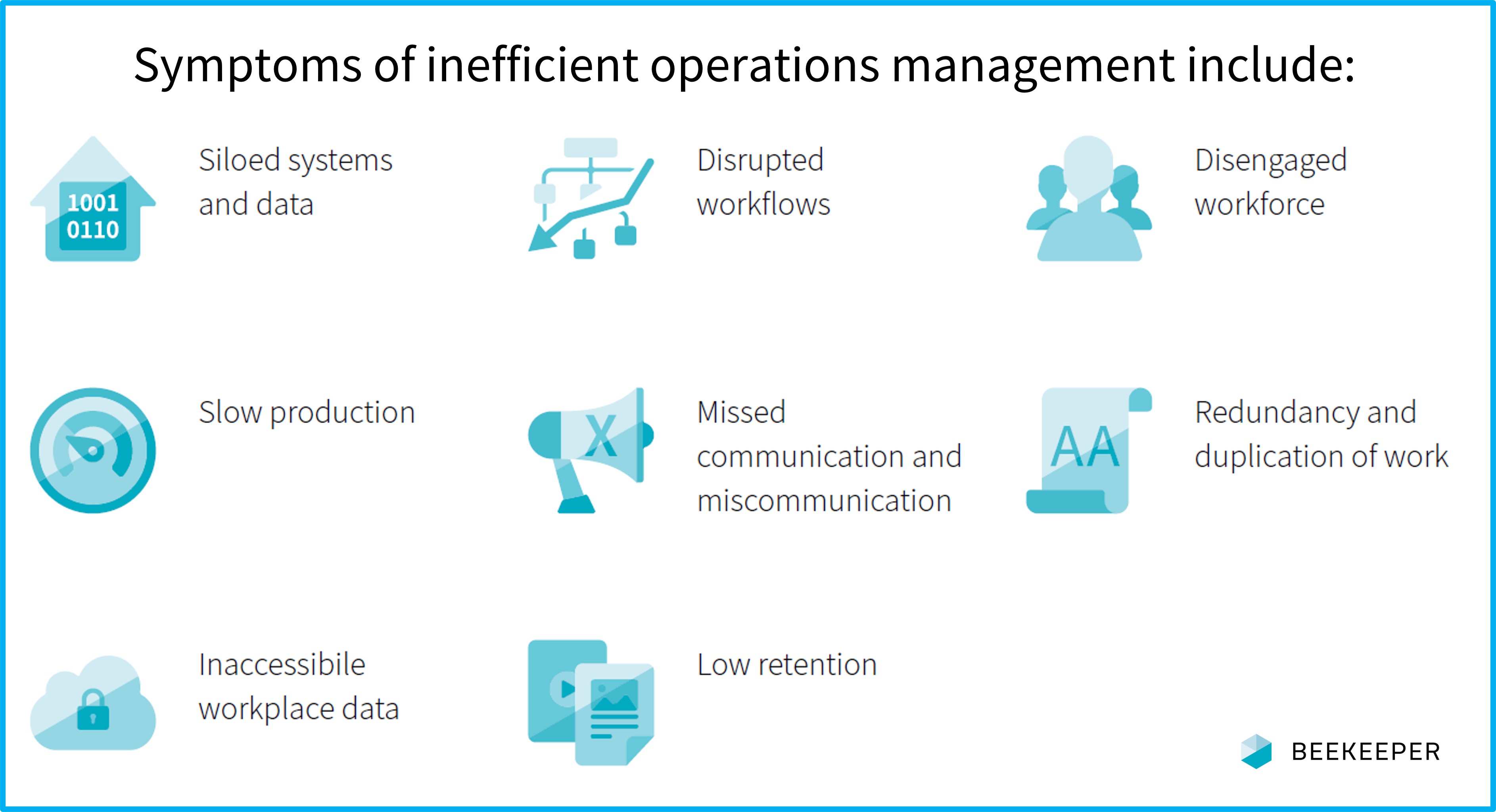 3. Better online reputation and customer reviews will improve operations.
Employee and customer experience are directly linked. As a customer, have you ever encountered a response to a question such as, "I don't know," or observed that the employee is unable to adequately respond to your query?
Even in the best-case scenario, this doesn't bode well for the relationship with your employee or your customer. Given this, it's vital to know:
The hard and fast data

on whether your frontline teams are empowered with the right information.
If that data is

readily-accessible to them throughout their work.
Even as technology advances in the world and in the workplace, most consumers still want to interact with a human.
Automating workforce management through a digital workplace ensures your frontline teams are armed with the right information in real-time and ready to represent the company. A business communication app allows employees quick access to company information that's valuable to the customer experience. Empowered, knowledgeable frontline workers are a valuable asset in shaping your customer experience.
Discovering and addressing knowledge gaps in your workforce is another KPI to pay attention to. This can be addressed in two key phases as you compile your communication strategy:
First, during the feedback gathering process you identify areas where more training is necessary, and then in making the case for new workplace tools based on these knowledge gaps.
Then, you can track if service scores are affected as you develop and implement new training content and educational resources, and poll your workforce to see if the information is being retained and effectively distributed.
We are curious, what tool is your organization using for inclusive internal communications with your frontline workers?
Technology today needs to spark the same spontaneity for remote workers as it does for in-office workers.
Quite the tall order and the reality is that it won't feel the same.
But perhaps you have the opportunity to shape an even more enriching experience for remote and frontline employees.
We invite you to download our Guide to learn more on how to grab that opporutnity:
"If enterprises cannot plan ahead for and successfully execute digital transformation they risk losing their competitive advantage along with the opportunity for market share and revenue growth. To truly measure the success of digital workplace development, organizations must take a proactive approach and use data to qualify and quantify the demand for the roles, skills and technologies needed for digital initiatives." –Alex Brower, VP Market Research, Cloud Academy
---

---